Am. Can. Ch. Katydid D'Estiny at Monterra " Monty"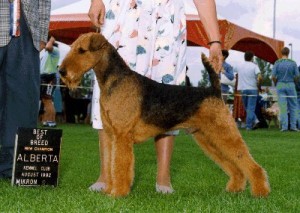 Am. Can. Ch. Katydid D'Estiny at Monterra was our first showdog and the guy that started us in the Airedale show world. What can you say about a dog who was born with your name on him? After we had decided to get an airedale to show and possible be used in a breeding program, I found a breeder in South Dakota named Karen Howell(Katydid), co-breeding a litter with Diane Schlicht of D'Aire, who had a breeding planned that looked interesting to me. I began thinking about names and "Monty" seemed like the logical name for a male who would be the first to be shown under the Monterra kennel name.
Well, the summer went by and in early August I received a note from Karen telling me that the litter had arrived and there were 2 boys and 2 girls and they would all receive names starting with the letter "M"……and the first- born in the litter was a boy she called Monty (now I had not said a thing to Karen about my thoughts about what I would call my boy)…..so there he was, it was destiny, Monty Howell! As it turned out, he became the pick boy from that litter and he came to live with us on Halloween Day. Monty had a wonderful temperament and the kind of coat that made learning the fine art of handstripping as easy as possible for a beginner….he made me look good! I learned so much from that boy and made lasting friendships in the Airedale world because of him. He is forever in our hearts and a bit of him is being passed on in each new generation of Monterra Airedales.
DOB: August 9, 1989 – Breeders: Karen Cameron-Howell and Diane Schlicht – OFA GOOD
Ch.
D'Aire Whistlin' Dixie
Ch.
D'Aire Upper Echelon

Eng. Am. Ch. Turith Echelon of Saredon

Eng. Ch. Saredon
Military Man
Prelude of
Turith
Ch.
D'Aire Belle Star
Ch. Sunnydale's Doc
Holiday
Ch. Moraine D'Aire
Naughty Sadie
Ch.
D'Aire Windsong
Ch. Bravo
True Grit

Eng.Ch. Bengal Turith
Comet
Ch. Bravo Bonanza
Belle De AAA
Ch.
D'Aire Unchained Melody
Ch.Kenmel's
Youngblood Royal
Ch. Moraine D'Aire
Naughty Sadie
Ch.
D'Aire Beautiful Noise
Ch.
Winsom's Up N At'Em

Cedarcrest Duncan Yo-Yo

Kenmel's Spit 'N
Polish
Ch. Golliwog's
Fiona
Ch.
Winsom's Bella Sbocciarina
Ch. Moraine Bold
Regent
Ch. Afton's
Blackberry Bramble
Ch.
D'Aire Unchained Meloday
Ch.
Kenmel's Youngblood Royal
Ch. Jokyl Prince
Regent
Maggie MaGee of
Kenmel
Ch.
Moraine D'Aire Naughty Sadie

Ch. Moarine Bold Regent

Ch. Moraine Future
Promise