Monterra Airedales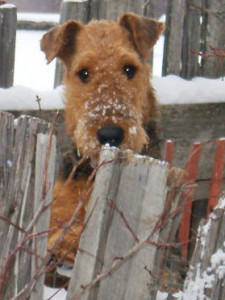 At Monterra Airedales our goal is to breed, exhibit, love and nurture the Airedale Terrier which meets the AKC standard as closely as possible and will be healthy, happy, sturdy and beautiful representatives of the breed , having the qualities to make them first and foremost cherished companions. Additionally we are striving to produce Airedales that will be competitive in the show ring, agility, tracking, obedience and hunting.
We want all of our dogs to be placed in loving homes where they will be a positive addition to the home and society for the life of the dog. We take great care in screening potential owners to maximize this outcome, and as well do everything in our power to assure that each pup has the best start in life to prepare him/her for whatever the world may bring him.
We use dogs and bitches in our breeding program that have proven themselves in the show ring (AKC and/or CKC (Canadian) Champions) and have been OFA/PennHIP screened for hip dysplasia for several generations. We go to great lengths to pick breeding partners that will be complementary.
All companion animals are sold with AKC "limited" registration. This means that they will have their own registration number with AKC, but if used for breeding their offspring cannot be registered with AKC. This is done to protect the breed and our line from indiscriminate, irresponsible breeding. These dogs will not be eligible to compete in conformation competition, but can still compete in obedience, hunting, tracking and agility events.
All of our puppies are sold on a contract that has a health/inherited genetic defect guarantee, and that requires companion dogs (all those that are not sold as "show potential") to be spayed or neutered by a certain age. We require that all of our dogs be returned to us, or that we approve a new home, if the original owner can no longer/wishes not to keep the dog for ANY REASON. We care about our puppies for as long as they live and want to always know where they are and how they are doing, and we will make ourselves available to help new owners in any way and refer to appropriate resources if outside of our area.
We have been involved with Airedales since 1983, starting out with dogs that we put obedience titles on and used as therapy dogs visiting folks in nursing homes and gradually becoming involved in showing and breeding quality Airedales. I am and have been an active member of our local kennel club (Flathead Kennel Club of Mt., Inc) for nearly 20 years, have been a member of the Airedale Terrier Club of America for over 16 years and subscribe to the ATCA Responsible Breeder's pledge and the ATCA Code of Ethics. Our dogs have won in top competition and we have gotten reports from happy pet owners that the Airedale they got from us is the best one they have ever had! Of course that is not just because of how we breed and rear them, but our new owners are doing a wonderful
job of raising their new puppies to become great dogs!